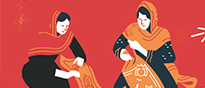 Go to AWARE FOR EMPLOYERS Portal
Context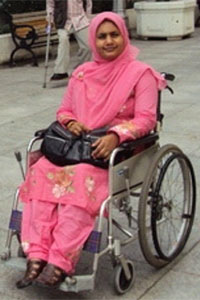 The Asian Workplace Approach that Respects Equality (AWARE) project builds on the work of Disability Rights Promotion International (DRPI), which is working to establish a holistic and sustainable global system to monitor the human rights of people with disabilities. AWARE uses this holistic approach to identify and address the barriers people with disabilities experience when trying to participate in the labour force in Bangladesh, India and Nepal. Through understanding the systemic reasons for the under-employment and unemployment of people with disabilities in these three nations, we will partner with employers to improve employment prospects for people with disabilities.
According to World Health Organization projections (2011), there are 208 million people with disabilities living in Bangladesh, India and Nepal, the vast majority of whom live in conditions of poverty and isolation. This profound poverty can be explained in part because women and men with disabilities experience significantly lower employment rates than women and men without disabilities. Promoting the employment of people with disabilities increases the economic well-being of their households and communities, as well as the performance of labour markets.
AWARE is a collaborative five-year project that will focus on three sectors:
hospitality
food processing
entrepreneurship or self-employment.
AWARE uses a multi-pronged strategy to improve labour-market participation of people with disabilities:
Documenting best practices and systemic labour market, socio-cultural and sector-specific barriers, so as to better understand the economic opportunities of working age women and men with various types of disabilities.
Improving the effectiveness of labour markets by impacting the decision-making of small and medium enterprises in the hiring and promotion of people with disabilities.
Providing labour market skills for women and men with disabilities to maximize their capacity to make economic contributions.
This multi-pronged approach maximizes employment and sustainability outcomes. This enables the AWARE project to bring about positive changes at the individual level for people with disabilities, as well as for employers, the labour market and society more broadly.
AWARE will work primarily in urban areas of the three target countries:
Dhaka, Bangladesh
Hyderabad, India
Kathmandu, Nepal
The project embraces collaboration with local disabled people's organizations, employers, government officials, and other stakeholders, and has strong support from grassroots organizations in Bangladesh, India and Nepal. AWARE builds on the recommendations from local, national and international initiatives tackling employment barriers faced by persons with disabilities.


We would like to acknowledge the support of Department of Foreign Affairs, Trade and Development (DFATD) and York University in this project.
Resources:
Employing Persons with Disabilities: A Model of Successful Corporate Culture Change
Read more about the launch of the DRPI AWARE project.
You can access photos from the first field visit of the Canada team to each country by clicking on the following links: Bangladesh, Nepal, and India.
DRPI AWARE – People
Contents at a Glance
Individual Profiles
Country Coordinators
Sreedhar Ganta – India Country Coordinator
Profile coming soon!
Ferdousi Begum – Bangladesh Country Coordinator
Profile coming soon!
Sagar Prasai – Nepal Country Coordinator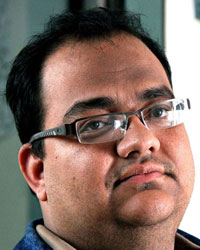 Sagar Prasai is a young and enthusiastic social activist from Nepal who has been advocating for disability rights and providing direct services to people with disabilities of Nepal for over seven years. Sagar's career has included teaching computer skills to people with disabilities at the National Rehabilitation Society for the Disabled (NRSD), where he also initiated an innovative program called Audio Books for visually impaired people – a zero budget program producing more than 200 audio books in a year. Sagar has also worked with Wateraid an international NGO. He also helped some development agencies including USAID, Nepal in their strategic planning to develop socially inclusive programs. In 2013, he was selected for a US Department of State funded fellowship called "Community Solutions Program". He stayed in the United States for 4 months working at the Institute for Community Inclusion at University of Massachusetts, Boston. Sagar is a constant dreamer and believer in change and he is working everyday with all his capacity to uplift the life status of people with disabilities in Nepal.
Workplace Coordinators
Keerthana Bezawada – India Project and Work Placement Associate
Profile coming soon!
Bishal Dahal – Nepal Workplace Coordinator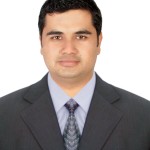 Mr. Dahal is a Social Contributor and founder President of Social Contributors Into Action Network (SCAN) Nepal, a network of socially active people committed for the development of the society. In 2012, he was selected for a US Department of State funded exchange Program called International Visitors Leadership Program (IVLP). He stayed in United States for one month. He has experience of working in Human Resources Department in "A" class commercial bank of Nepal for five years. He is also executive member of Ward Citizens Forum that represents civil society group. Being a Social Entrepreneur, he operates his own business. He is very passionate and dedicated towards his work. He is the founder of Community Service Center, Golphutar which organizes various activities of civic engagement and advocates on strengthening civil society.
Local Specialists
Kuhu Das – Gender Analysis Specialist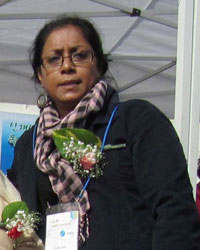 Kuhu founded the Association for Women with Disabilities (AWWD) in West Bengal, India in 2002 and is currently its Director with 9 years of experience working on empowerment and mainstreaming of women with disabilities (WWD).  Her work focuses on creating a strong platform through facilitating networks among WWD at all levels and capacity development of WWDs in leadership and advocacy so they can act as a collective voice. She has conducted leadership training at various levels in South Asian countries and India. Kuhu also has 15 years of experience in disability, gender equality & women's empowerment issues and 10 years of project assessment and evaluation experience.
Canadian Partners
Marcia Rioux, York University (Project Leader)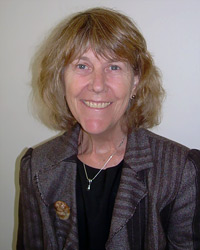 Marcia Rioux is a Professor in the School of Health Policy and Management; in the MA and PhD (Critical Disability Studies) and in the MA / PhD in Health Policy and Equity at York University, Toronto, Canada. She is the Director of the York Institute of Health Research (YIHR). She works with many disability organizations and has published and consulted widely on disability and human rights and disability policy issues, both nationally and internationally. Marcia has lectured throughout the Americas, Europe, Africa and Asia. She advises federal and provincial commissions, parliamentary committees, and international NGO's as well as United Nations agencies. She recently published with Brill Press, Critical Perspectives on Human Rights and Disability Law, (edited by M. H. Rioux, L. Basser, M. Jones).
Normand Boucher, Laval University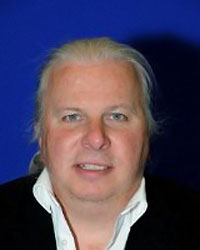 Normand Boucher is an adjunct professor in the School of Social Work at Université Laval. Over the last 10 years, he has been involved in the disability movement of Québec and cofounder of the Association of Student with Disabilities at Université Laval. With a PhD in Sociology from Laval University, he has carried on his post-doctoral studies in the Centre for Disability Studies at the University of Leeds in the UK. He works on issues related to citizenship of people with disabilities in the postindustrial society at the International Network on Disability Creation Process. At the Centre for Interdisciplinary Research in Rehabilitation and Social Integration (CIRRIS), his research focuses on employment, housing, transport, and support Services.
Annie Bunting, York University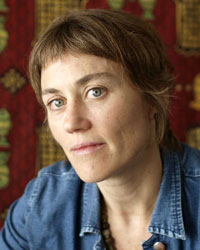 Annie Bunting is an Associate Professor in the Law & Society program at York University in Toronto, teaching in the areas of social justice and human rights. Professor Bunting is a graduate of York, having studied law at Osgoode Hall Law School (1988). She received her LL.M. from the London School of Economics and Political Science (1991) and her SJD from the Faculty of Law, University of Toronto (1999). The topic of her doctoral dissertation is international women's rights, culture, and the case of early marriage. She has published articles in Social and Legal Studies, Journal of Law and Society, Canadian Journal of Women & the Law, and chapters in various book collections. She has served on the Editorial Board of Law & Social Inquiry and the Muslim World Journal of Human Rights. She currently directs a 5-country research project on enslavement of forced marriage in war.
Rachel Gorman, York University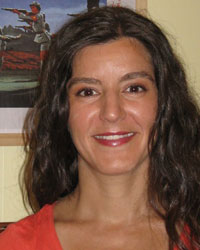 Rachel Gorman is an Assistant Professor in Critical Disability Studies at York University. Her areas of focus are political economies of disability; Disability Arts and Culture movements; postcolonial and dialectical materialist approaches to understanding the social organization of disability; disability in the context of nationalisms, transnational imperialism, and national liberation; internationalist and anti-capitalist approaches to global healthcare provision.
Thomas Klassen, York University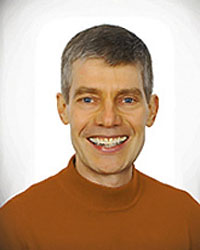 Thomas Klassen is a Professor in the Department Political Science, and the School of Public Policy and Administration at York University.  He is also appointed to the Graduate Program in Critical Disability Studies at York University, and is a Faculty Associate the York Centre for Asian Research. His areas of research include the politics of aging, age discrimination in the workplace, disabilities in the workplace and labour market, perceptions of people who stutter, treatment of stuttering, and gambling policy. He is author of Retirement in Canada (Oxford University Press, 2013) and co-editor of Korea's Retirement Predicament: The Ageing Tiger(Routledge, 2013). He has prepared numerous reports for governments on labour market policies for disadvantaged workers. Starting in 2014, Professor Klassen will be located in Seoul, South Korea, with his spouse and seven-year old twins conducting research.
Sean Wiltshire
Profile coming soon!
Monica Ackermann
Profile coming soon!
Paula Hearn, Project Coordinator
Paula Hearn's profile is described on the DRPI – People page.
Graduate Assistants
Alexis Buettgen, PhD Candidate, Critical Disability Studies, York University
Previous Collaborators
Anuradha Srinivasan Echambadi –  Previous India Country Coordinator
Cameron Graham, York University
Organizational Profiles
Subhi Association for Women with Disabilities (AWWD)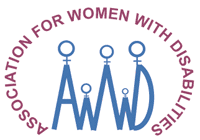 AWWD is a grass roots non-profit organization formed in 2002 with 2 units in West Bengal, India. Primarily working in Kolkata's slums and 24 South Pargana – an area of rural deprivation; AWWD works with poor, young and disabled women who are denied their fundamental human rights even on a daily basis. The heart AWWD's work is capacity building at the individual, collective and societal levels. AWWD focuses on enabling girls and women to take control of their lives including their social, economic, cultural, political and material resources and become part of mainstream society. The organization also creates platforms for women with disabilities to collectively raise their voices, undertake advocacy and awareness building activities with key societal stakeholders and works in partnerships with NGO's and CBO's to influence policy and legislation. It works towards long term sustainable mainstreaming, community engagement, and advocacy & awareness. For more information see the AWWD website.
Bangladesh Protibandhi Kallyan Somity (BPKS)

BPKS is a pioneer organization comprised of people with all types of disabilities. It was established in 1985 under the leadership of the Executive Director Mr. Md. Abdus Sattar Dulal, a person with a disability. As a non-governmental, voluntary organization in Bangladesh, BPKS acts to safeguard the rights of disabled people to ensure equal rights, opportunities and mainstreaming the people with disabilities into the development process, so that they can contribute to nation building activities as equal citizens. BPKS is registered with the Government and is managed democratically by a 'National Council' and a 'National Executive Council' each comprised of nominated representatives with disabilities. BPKS initiated the, "Persons with Disabilities' Self-Initiatives to Development (PSID)" a disabled people lead right-based long-term need-focused holistic approach, which works to improve and change social structures, policy and systems so that the development process is an appropriate and effective one for everyone including people with disabilities. There are over 1500 grassroots disabled peoples' organizations including 20 permanent PSID resource centers with more than 35,000 people with disabilities as direct grassroots members of those organizations. For more information see the BPKS website.
Md. Abdus Sattar Dulal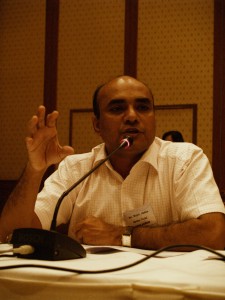 Md. Abdus Sattar Dulal, is the founder of BPKS, DRPI's partner organization in Bangladesh for the AWARE project. He has 30 years' experience working to safeguard the human rights of disabled people, promote DPOs and their participation, and advocate for non-discriminatory systems and policies worldwide. Innovation of a disabled people led human rights and development based approach. In 2012 he was awarded as 'Disability Rights Champion' by the UNESCAP and he has also held the position of Global Secretary of DPI.
Sattar's speaking engagements have included national and international audiences including addresses at the Australian parliament house, Melbourne, Harvard University, the Asian Development Bank (ADB). He has collaborated in developing documents such as UNCRPD, the Poverty and Social Development Papers of ADB, World Report on Disability, the AusAid Development for All policy and Handicapped International plan. In Bangladesh, he also contributed to a disability-specific national policy in 1995, the 1996 Action Plan, the Act of 2001/2013 and the mainstreaming of disability in a range of national policies.
Mr. Dulal is central to the AWARE project's mission, bringing his extensive knowledge and experience of disability rights research, policy and advocacy as well as his extensive network of key stakeholders to achieve the project's core objectives of producing evidence-based research that identifies the context-specific barriers to employment for people with disabilities and working to address those through sustainable and collaborative solutions.
National Federation of the Disabled Nepal

National Federation of the Disabled Nepal (NFDN) is national umbrella network working for promoting the rights of persons with disabilities for last 20 years. NFDN is representing more than 300 member organizations working on disability issues (mostly the organizations run by the persons with disabilities) throughout the country. As the civil society organization, NFDN is very much instrumental to influence the government agencies and policy makers for the formulation of disability related policies, laws, program and their implementation as well. Advocacy, Awareness raising, Capacity Building and Networking & Collaboration are the key working strategies of NFDN. Internationally NFDN has been recognized as the member assembly of Disabled Peoples' International (DPI) and president of DPI Asia Pacific and nationally it is representing the whole disabled community of Nepal in the various government bodies such as Special Education Council, Law Reformation Commission, National Development Councils etc. For more information see the National Federation of the Disabled Nepal website.
Shudarson Subedi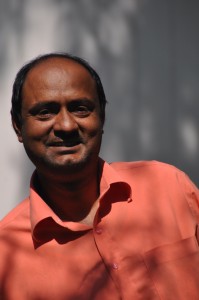 Mr. Subedi is the National President of National Federation of the Disabled Nepal (NFDN), DRPI's partner organization in Nepal for the AWARE project. He is also the Founder President of the Nepal Disabled Human Rights Centre (DHRC-Nepal). He has undertaken numerous important initiatives for the human right movement for persons with disability since 1990 including establishing the trend for Public Interest Litigation (PIL) in Nepal. His contribution in PIL has benefited persons with disabilities ranging from children to adults to seniors. Shudarson is a leader in the international disability community as a disability and human rights promoter. He was elected a Chairperson of Disabled Peoples international South Asia in February 2012 and Vice Chairperson of the Asia Pacific region in October 2012. He has also received numerous accolades for his involvement in human right activities including being named an ASHOKA Fellow and a Champion of Change by the Government of Nepal in 2005. In October 2012 UNESCAP named him a disability rights promoter to promote the Incheon strategy for 10 years.
As a president of NFDN, his main responsibility in the organization is to plan training on disability and human rights promotion and protection; to support people with disabilities through legal aid; to study, research and prepare policy based on the needs of the organization; and also to establish and maintain the international relations with organizations throughout the globe. Shudarson is central to the AWARE project's mission, leveraging strategic relationships with employers and other stakeholders as well as bringing his extensive knowledge and experience of disability rights in Nepal to achieve the project's core objectives of producing evidence-based research that identifies the context-specific barriers to employment for people with disabilities and working to address those through sustainable and collaborative solutions.
Swadhikaar Center for Disabilities, India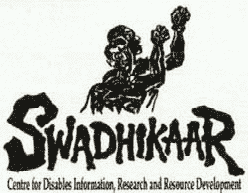 Swadhikaar Centre for Disabilities Information, Research and Resource Development is a national Disabled Persons' Organization based in Andhra Pradesh. Established and registered as a society in 2004, Swadhikaar's vision is to ensure a just world, with equality and non-discrimination for persons with disabilities. Swadhikaar's mission is to work with persons with disabilities to promote inclusion and equal opportunities in society and governance. Swadhikaar's work focuses on advancing rights of persons with disabilities to live with dignity, with particular focus on women, Dalits, Aadivaasis and minorities struggling against marginalization and vulnerability.  Swadhikaar continuously works to understand vulnerability of these groups and works towards social justice in all its activities. Swadhikaar facilitates legal literacy training on human rights and serves to link DPOs across India to share, learn and spread strategies to negotiate with the State to protect and promote quality of life. Swadhikaar makes recommendations for inclusions to the state and the national governments.
Pavan Kumar Muntha
Pavan Kumar Muntha is the Executive Secretary of Swadhikaar Center for Disabilities Information, Research and Resource Development and is at present working with the Disability Rights Promotion International-AWARE Project to promote employment of persons with disabilities in the areas of food processing, hospitality industry, self-employment and entrepreneurship in Hyderabad, Telangana.
Pavan Kumar Muntha is the Convenor of the Nature Farming Practitioners' Federation. He is working on mobilizing farmers to promote Nature Farming in the districts of East Godavari, West Godavari, Visakhapatnam, Vijayanagaram and Srikakulam of Andhra Pradesh to address the issue of high investments in agricultural practices.
Paven is central to the AWARE project's mission, bringing his leadership and extensive knowledge and experience of disability rights in India as well as his wide-ranging network of employers and other stakeholders  to achieve the project's core objectives of producing evidence-based research that identifies the context-specific barriers to employment for people with disabilities and working to address those through sustainable and collaborative solutions.
Contact Information
Marcia Rioux, Project Leader
Paula Hearn, Project Coordinator
Telephone: 1-416-736-2100 ext. 20718
E-Mail: drpi_aware@yorku.ca
Fax: 1-416-736-5986
York University, 5021 TEL Building
4700 Keele Street, Toronto, ON
Canada M3J 1P3