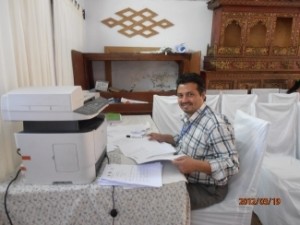 On April 18, 2012, DRPI's Nepal Country monitoring project began during a ceremony at the Grand Norland Hotel in Gokarna Mulpani, Kathmandu. The keynote speakers at the opening ceremony were Dan Bahadur Chaudhary, Minister of Women, Children and Social Welfare and Tarai Madesh, Representative for the Nepal Loktantrik Samajbadi Dal Party.  Both speakers wished the participants well and reiterated the importance of monitoring human rights in both rural and urban regions of Nepal.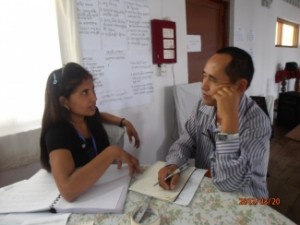 The National Federation of the Disabled Nepal (NFDN), assisted by the DRPI Asia-Pacific regional office, planned and led the seven-day training involving 30 participants (coordinators, monitors and data analysts).  During the training, participants were introduced to techniques that they will use to conduct face-to-face interviews with persons with disabilities in four regions of Nepal – Dang, Jhapa, Kathmandu Valley and Kaski.  Monitors had many opportunities to practice their new skills during the training including conducting practice interviews with outside volunteers. Participants also learned how to gather, assess and report on government laws, policies and programs related to disability rights as well as how to review media stories to see what they reveal about societal attitudes toward disability.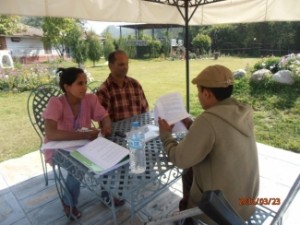 Following the training, participants proceeded directly to the field to begin collecting disability rights monitoring information. Once the information is collected and analyzed, a holistic report will be prepared that gives a complete picture of the human rights situation of persons with disabilities in Nepal.
Click here to access photos from the DRPI Nepal training on monitoring the rights of people with disabilities on our Facebook page.
DRPI Nepal – People
Organizational Partner: Federation of the Disabled-Nepal (NFDN)
Country Project Coordinator: Birendra Raj Pokharel
Individual Experiences Monitoring
Dang Monitoring Site
Site Coordinator: ChintaMani Paudel
Monitors
Asha Pun
Bashudev Rijal
Bhuma Chaudhari
Tilak Bahadur Basnet
Kaski Monitoring Site
Site Coordinator: Shishir Khanal
Monitors
Amrit Baral
Laxman Subedi
Lok Bahadur Gurung
Sushila Bhujel
Jhapa Monitoring Site
Site Coordinator: Kumar Regmi
Monitors
Lila Paudel
Pitambar Ghimire
Kathmandu Valley Monitoring Site
Site Coordinator: Ram Pyari Karki
Monitors
Goma Devi Paudel
Neeta Keshari Bhattara
Puja Pokharel
Samjhana Ghimire
Sarosati Paudel
Tek Nath Neupane
Yubaraj Kattel
Data Analysis
Coordinator: Dhruba Gyanwali
Assistants
Yubaraj Kattel
Samjhana Ghimire
Systemic Monitoring (Laws, Policies and Programs)
Monitors and Data Analysts
Tika Dahal
Mukunda Dahal
Narbahadur Limbu
Societal Attitudes Monitoring (Through Media)
Monitors and Data Analysts
Sudarshan Subedi
Jagadish Adhikari
Laxman Subedi