Preparations finalized for the Africa Regional Training Introducing an Online Platform and Tools of Monitoring Disability Ri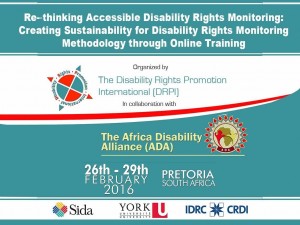 ghts, which will be taking place in Pretoria, South Africa, from the 26th through 29th February 2016. Organized by the Disability Rights Promotion International – DRPI, in collaboration with the Africa Disability Alliance – ADA.
The Training (the first of its kind in the continent) will be attended by representatives of persons with disabilities from 10 countries of East, West and Southern Africa, as well as researchers and organizations working on human rights advocacy in the region.
Click here to access pictures from the training on our Facebook page.
Further details about DRPI-Africa can be accessed at this link:http://drpi.research.yorku.ca/africa/