Regional Trainings
DRPI has not yet conducted any regional trainings in North America.
Project-Specific Trainings
Below is a list of project-specific trainings DRPI has implemented for people with disabilities on the monitoring of disability rights. Click on the project to read more about the training.
2009 Training on Economic, Social and Cultural Rights Related to Disability in Quebec
Disability Rights Promotion International – Canada (D.R.P.I. Canada) held a one-day workshop on November 10th, 2009, about how the implementation of economic, social and cultural rights, affects the daily lives of people with disabilities. This event, held in Québec City, was made possible by the collaboration of the Centre for Interdisciplinary Research in Rehabilitation and Social Integration (C.I.R.R.I.S.), L'Institut de Réadaptation en Déficience Physique de Québec (I.R.D.P.Q.), and Regroupement des personnes des organisations de handicapées de la région 03 (ROP 03) and with the financial support of Canadian Heritage.
The keynote speaker, Marc Bilocq from the Commission des droits de la personne et des droits de la jeunesse du Québec (Québec Human Rights Commission) spoke about the Charte québécoise des droits et libertés de la personne (Québec Code) and its role in fighting discrimination against people with disabilities. The remainder of the day was devoted to the presentation of economic, social and cultural rights. Participants were given information about the underlying human rights principles: dignity, autonomy, nondiscrimination and equality, participation, inclusion and accessibility, and respect for difference. Throughout the day, participants highlighted the existing gap between their formal economic, social and cultural rights and the accomplishment of their ordinary activities in the community.
The workshop ended with a discussion around monitoring mechanisms that should be put in place for the acknowledgement of human rights violations, as well as the kinds of instruments that have been developed by D.R.P.I. Canada. Everyone agreed that every person with or without disabilities belongs to humankind and is a holder of rights, and that the full exercise of their human rights cannot be obtained without a social struggle for the recognition of equality rights.
St. John's Training Seminars, August 24th and 25th-29th, 2009
D.R.P.I. Canada, in collaboration with N.G.O. and government partners, held two training events in St. John's Newfoundland related to disability rights and monitor training.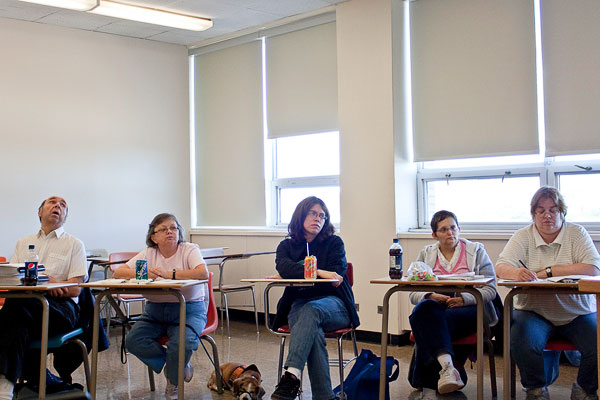 The first event was a one-day workshop on Economic, Social and Cultural Rights, funded by Canadian Heritage. The workshop was attended by over 60 participants and included presentations from a series of local and international human rights advocates and researchers. The attendees agreed that the event, which allowed them to build their knowledge on economic, social and cultural rights, to be a great success.
Eleven of the participants from the workshop on Economic, Social and Cultural Rights continued with disability rights monitoring training on August 25th. This intensive, five-day training event emerged as a collaboration between D.R.P.I. Canada and the local Independent Living Resource Centre. The seminar was designed to build local capacity in communities across Canada for monitoring human rights of people with disabilities. As a part of their training, participants and organizers shared experiences of disability-based discrimination and instances where human rights were denied. The training also focused on teaching and practicing interviewing skills considered critical to monitoring individual experiences of human rights among people with disabilities. By the end of the training, participants were comfortable in their ability to perform interviews to monitor human rights in their communities.
The St. John's monitoring training seminar was the last in a series of training seminars held by D.R.P.I. Canada to train people with disabilities to monitor human rights abuses in their communities. The other training seminars were held in Toronto, Quebec City and Vancouver.
2009 Disability Rights Monitoring Training and Seminar on Economic, Social, and Cultural Rights in Vancouver
From May 21st to 28th, DRPI Canada held another training event in Vancouver, one of DRPI Canada's four monitoring sites. The aim was to train a team of people, all of whom have disabilities, to be human rights monitors for people with disabilities. During the training, DRPI Canada benefitted greatly from the strong support, expertise, and passion of its local partner, the British Columbia Coalition of People with Disabilities (BCCPD). As a result of this close collaboration, participants described the fully accessible training sessions as amazingly organized, [with] everything going remarkably smoothly where they unanimously felt fully included and treated well and equally. DRPI Canada would like to thank again its partner, especially Sam Bradd, Administrative Director for the BCCPD and Vancouver Monitoring Site Coordinator, and Jane Dyson, BCCPD Executive Director, for their hard work and dedication to making this event a success.
The training began with an overview of local human rights issues by Frances Kelly from the Community Legal Assistance Society, followed by a workshop on economic, social and cultural rights funded by the Department of Canadian Heritage. During subsequent days, an experiential learning approach equipped participants with knowledge and skills to interview their peers about their stories of human rights violations, to obtain free and informed consent, and to protect the confidentiality of the information collected.
At the end of the training and after many opportunities to practice their skills, the monitors received certificates as a symbolic recognition of their valuable participation and personal commitment to engage in such challenging work. They all proclaimed that they were ready for the challenges that lay ahead with the knowledge that their important work will bring unheard stories to light. More information on the Vancouver training can be found on the BCCPD website.
April, 2009: 'Understanding our Rights, Changing our Lives' workshop
The workshop was held in collaboration with C.I.L.T. within the 2009 Spring Community Development Institute event in Toronto. Click here to learn more about the 2009 Spring Community Development Institute (external link).
2009 Training seminar on economic, social and cultural rights in International Covenant on Economic, Social, and Cultural Rights (ICESCR) related to Disability, Toronto
The first DRPI Canada training on Economic, Social and Cultural Rights was held February 6th and 7th, 2009 in Toronto, bringing together people with disabilities, their organizations and allies. The training was described by participants as enlightening,informative, interesting and intense. This
event, made possible with the support of our local partner, the Centre for Independent Living Toronto (CILT), and a financial contribution from the Department of Canadian Heritage, facilitated the training of 15 participants in a participatory learning environment bringing together a diversity of experiences and knowledge. Participants identified shared leadership, respect for lived experience, and the focus on group input as effective elements of this training which provided a base of information on Economic, Social and Cultural rights as encompassed in ICESCR
The deconstruction and applicability of these rights in relation to disability focused on increasing awareness about the central role of these rights in protecting those who are vulnerable and marginalized. The training also emphasized the importance of building a community of people with disabilities knowledgeable on these rights to effectively pass their knowledge to their communities and bring about positive social change. Participants enthusiastically supported the knowledgeable facilitation of complex materials in clear, practical and relevant ways. One participant noted This training was very informative. I learned so much I can't wait to apply it. The training materials provided participants a rich reference source they can use to disseminate and raise awareness in their communities. As one participant commented, they were absolutely certain that it will prove useful as a reference and likely many times over.
With a few bumps and hiccups along the way, the first incarnation of this training was very positively received. Tapping into increased interest in this area, participants have requested ongoing group communications, updates surrounding these issues and online resources. Noting this overall success with some minor revisions to come, this training will be held in the future in other locations across Canada.
Disability Rights Monitoring Training Seminar, November 16-21, 2007
From November 16th-21st, 2007, D.R.P.I. Canada hosted a six-day seminar to train 10 people from the disability communities of Toronto and Quebec City to monitor the individual human rights experiences of people with disabilities in their cities. In keeping with the principle that disability rights monitoring must be owned by people with disabilities themselves, all monitors and a majority of the facilitators were people with disabilities.
On Friday November 16th, presentations were made by representatives of the project's organizational partners. In the morning, Laurie Beachell from the Council of Canadians with Disabilities (C.C.D.) outlined the situation of Canadians with disabilities and the C.C.D.'s efforts in the fields of law reform, litigation, public education, knowledge development, and human rights.  In the afternoon, Alex Neve from Amnesty International Canada spoke of the challenges involved in international human rights activism and argued for a human rights-based approach to disability.  Sandra Carpenter from Centre for Independent Living, Toronto spoke about the important role that centres for independent living play in the lives of Canadians with disabilities.
Over the next days, participants began learning about the intricacies and challenges of conducting monitoring interviews in the field. The Interview Guide developed by D.R.P.I. and previously tested in various countries was reviewed in detail and participants were given the opportunity to recommend adaptations for the Canadian context. Special consideration was given to the importance of obtaining the free and informed consent of interviewees and protecting the confidentiality of the information collected. Participants were also provided with the opportunity to put the knowledge and skills learned during the seminar nto practice through multiple role plays with one another and practice interviews with people with disabilities from the community.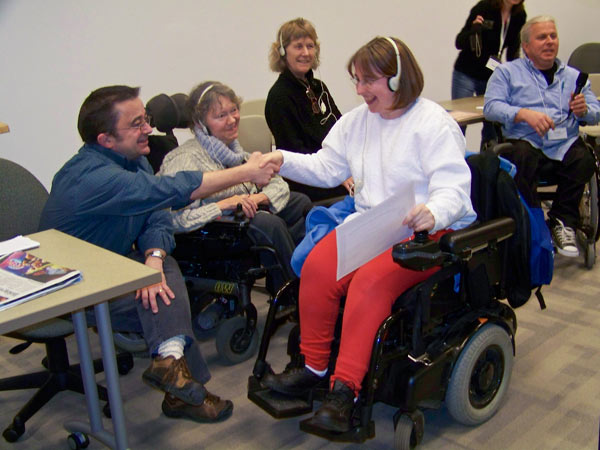 The last day of the seminar was dedicated to training the coordinators for the Quebec City and Toronto sites. The day opened with a hands-on introduction to using NVivo software as a tool to organize and analyze monitoring data. The second part of the day consisted of discussions regarding the roles and responsibilities of site coordinators when overseeing activities in the field.
Since the seminar, monitors have begun conducting interviews with people with disabilities in their cities. Over the course of the next two months, 50 interviews will be conducted in both Toronto and Quebec City. The information collected will be used to promote awareness of disability discrimination, inform advocacy for equal rights and encourage the development of inclusive policies and laws. It will also contribute to monitoring Canada's responsibilities under international human rights treaties, including the new United Nations Convention on the Rights of Persons with Disabilities.
Monitoring Individual Experiences – Team Members
Marcia Rioux, Project Director, York University
Normand Boucher,  Centre Interdisciplinaire de Recherche en Réadaptation et  Intégration Sociale (C.I.R.R.I.S.), Laval University
Sandra Carpenter, Centre for Independent Living, Toronto
Steven Estey, Council of Canadians with Disabilities
Isabel Kiloran, York University
Mihaela Dinca, D.R.P.I. Canada Project Coordinator (tel: 416-736-2100 ext. 20883)
Organizational Partners
Amnesty International Canada
Canadian Association of Independent Living Centres (C.A.I.L.C.)
Council of Canadians with Disabilities (C.C.D.)
DisAbled Women's Network – Ontario
Disability Rights Promotion International (D.R.P.I.)
Equitas