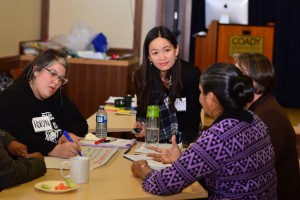 In November, 2015, Dr. Xuan Thuy Nguyen spent an afternoon at the Coady International Institute leading a workshop on the Monitoring Educational Rights for Girls with Disabilities project in Vietnam and its use of participatory visual methodologies.
The day included a discussion of the politics of engagement fostered by the project and a presentation and exhibition of some of the visual productions of the girls and women with disabilities in Vietnam.
Attendees included participants of the Coady International Institute leadership programs, faculty and staff of the Institute and St. Francis Xavier University and community members.
To see more photos from that workshop, visit the Coady Institute's album posted here.