Around ten thousand disabled persons from various parts of the country took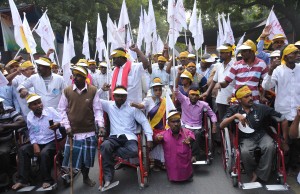 out a March to Parliament on December 3, 2015, coinciding with World Disability Day. Owing allegiance to the affiliates of the National Platform for the Rights of the Disabled (NPRD), National Federation of the Blind and the National Association of the Blind apart from various independent Disabled Persons Organisations and NGOs, the march was to register protest against the inordinate delay on the part of the Government in bringing the amendments and placing the Rights of Persons with Disabilities Bill, 2014 for discussion in parliament.
People from 14 states of the country, some of them traveling over three whole days and crossing various hurdles made it to the capital. There was a team from Karnataka who came on their retrofitted motorbikes traveling over a week to reach Delhi. There were people on wheelchairs, tricycles, crutches and of course white canes. Then there were a batch of deafblind as also a large number who were signing and those with cerebral palsy, autism and those with intellectual disabilities as well. Most of them came from the hinterlands of the country, from very poor economic backgrounds and confronting multiple discriminations of caste, gender, religion and so on. They spoke various languages, had different faiths and beliefs but were united in purpose. It was the largest ever cross disability mobilization the Indian national capital has seen.
A memorandum was handed over the Union Minister for Social Justice & Empowerment by a delegation on behalf of the 20 signatory organisations in the morning. A delegation also met the President of India in the evening.