A Capacity Building Training aimed at reducing the underutilization of UN and African Union human rights mechanisms by increasing the scope and quality of submissions from CSOs operating in Africa has taken place in October (14-16th, 2014) in Nairobi, Kenya

.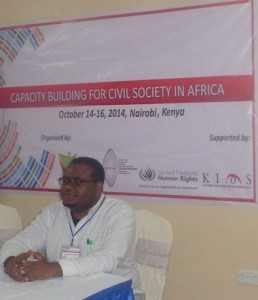 The training was jointly organized by the East and Horn of Africa Human Rights Defenders Project (EHAHDP), the Program on Women's Economic, Social and Cultural Rights (PWESCR) and the Office of the High Commissioner on Human Rights (OHCHR). Representatives of CSOs, human rights advocates and researchers from Kenya, Uganda, Tanzania, Burundi and Ethiopia have participated in this training. 
DRPI – through its Africa Regional Office – was also invited to and has attended this regional forum which provided an important experience sharing and networking platform.